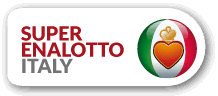 When you buy SuperEnalotto tickets online you have a 50% more frequent chance at hitting a multimillion dollar jackpot payday than most national lotteries provide. That is because you have the opportunity to pick SuperEnalotto numbers online three days a week, as winning numbers are drawn every Tuesday, Thursday and Saturday night. This international lottery has been played since 1997, and is an offshoot of the original Enalotto Italian lottery which has been around since the mid-1950s. And thanks to current laws regarding online lottery ticket purchases, you can now buy SuperEnalotto tickets online from anywhere in the world, right from your favorite PC.
Who knows? When you pick SuperEnalotto numbers online on your laptop, desktop or tablet from the comfort and privacy of your own home, you might just be the lucky Italian lottery winner who breaks the current jackpot record of €177 million ($219 million) that was won by a single ticket holder on October 30, 2010. And with a "jolly number" and a "superstar number" you are provided with several winning opportunities when you buy SuperEnalotto tickets online and participate in the modern version of one of the oldest and longest running national lotteries in the world. Buy Online Lottery provides a detailed overview on how to play further down this page.
Legitimate Lottery Retailers To Purchase SuperEnalotto Tickets
How To Play The Italian SuperEnalotto Lottery Online
If you want to know how to play SuperEnalotto online, you came to the right place. As far as the game goes technically, you simply need to pick 6 lucky numbers out of 90, as well as a "jolly number," and if you hit all 6 main numbers, you have just become the next multimillion dollar jackpot winner. But playing SuperEnalotto online also means extra winning opportunities if your lucky numbers match at least three of the winning numbers drawn on the date you play. If you match five numbers and your jolly number, you when a higher "5+1" prize than if you only match five of the six winning numbers.
You also win a substantial amount of money for matching five of the six numbers, four out of the six numbers, or three of the six numbers that are drawn on the date you play. And learning how to play SuperEnalotto online means discovering an extra purchase option, the SuperStar number. This separate purchase does cost more than simply playing SuperEnalotto online, but can increase your prize money by up to an incredible 100 times, even paying you a guaranteed amount of money regardless whether you match any of the six main winning numbers or not.
Our visitors are able to enjoy playing Italy's SuperEnalotto by visiting our featured online lottery agent: WinTrillions. WT provides a unique, high quality and rewarding online lottery experience as well as some fantastic welcome bonus offers.
Super Enalotto Lottery Results And Winning Numbers
To view the latest Super Enalotto results to see if you have any winning numbers, visit the Super Enalatto official website.  Here you will find certified results information that is confirmed by official lottery agencies. May we be the first to wish you "Buena suerte!" in your efforts to be the next big SuperEnalotto jackpot winner.
Other Italian Online Lotteries
Play Italy's SuperEnalotto | Play Italy's SuperStar Lottery | Play Italy's SuperEnalotto Syndicate