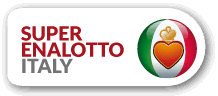 SuperEnalotto syndicate tickets are available to individuals outside of Italy through online ticket purchase options.  Travelers all over Europe actually take trips to Italy just to buy tickets in this national lottery. It got so crazy in 2009 after SuperEnalotto rolled over for an incredible seven months that people were literally flying in from all over the world just to buy tickets! Technological advancements and the growth of Internet capabilities have allowed a digital platform to emerge that provides access to the Super Enalotto lottery syndicate online. This puts lottery tickets within reach to millions of people outside of Italy.
The power of the Internet and worldwide lottery messenger services combine to give you the ability to purchase tickets in the largest lotteries in the world. All you need is an Internet connection to buy Super Enalotto syndicate tickets online. If you have never played a lottery in a "syndicate", it simply means "a group". Your lottery tickets are combined with those of others, giving you multiple chances to win. Your odds go up, your risk goes down, yet you still purchase the same number of tickets you normally would.
Lottery Retailers To Purchase Super Enalotto Tickets At
| Site Name | Bonus | Rating | USA Friendly | Visit Site | Review |
| --- | --- | --- | --- | --- | --- |
| | Daily Promotions | | | Visit Site | Review |
How To Play Super Enalotto Syndicate Games Online
The links we provide on this page take you to a licensed online lottery dealer who uses messenger services to buy your tickets in Italy on your behalf.  Your tickets then have your name written on them, the images are scanned and e-mailed to you, and just like that you have a chance to be the next SuperEnalotto jackpot winner. The SuperEnalotto is drawn every Tuesday, Thursday and Saturday, providing you with three chances to win every week. Just follow one of the provided links, open and fund your online lottery account, purchase SuperEnalotto syndicate tickets for anywhere from 3 to 12 consecutive draws, and you are in. Playing SuperEnalotto syndicate online is really that easy.
Buy SuperEnalotto Syndicate Games Through WinTrillions – Daily Deals Available

WinTrillions has become the destination of choice for a large number of lotto fans who choose to buy SuperEnalotto Syndicate tickets online. WinTrillions is legitimately licensed and regulated and adheres to compliance requirements in to remain in good standing with the licensing commission.  They do offer tickets for more lottery games than their competitors, and follow through with employing a sophisticated security profile to protect the financial and personal data of their customers.
We offer more sections related to buying SuperEnalotto tickets online that aren't syndicate related.